Diplodus vulgaris
| | |
| --- | --- |
| Scientific name | Diplodus vulgaris |
| Descriptor | Geoffroy Saint-Hilaire |
| Year of description | 1817 |
| IUCN category | LC |
| Family | Sparidae |
| Genus | Diplodus |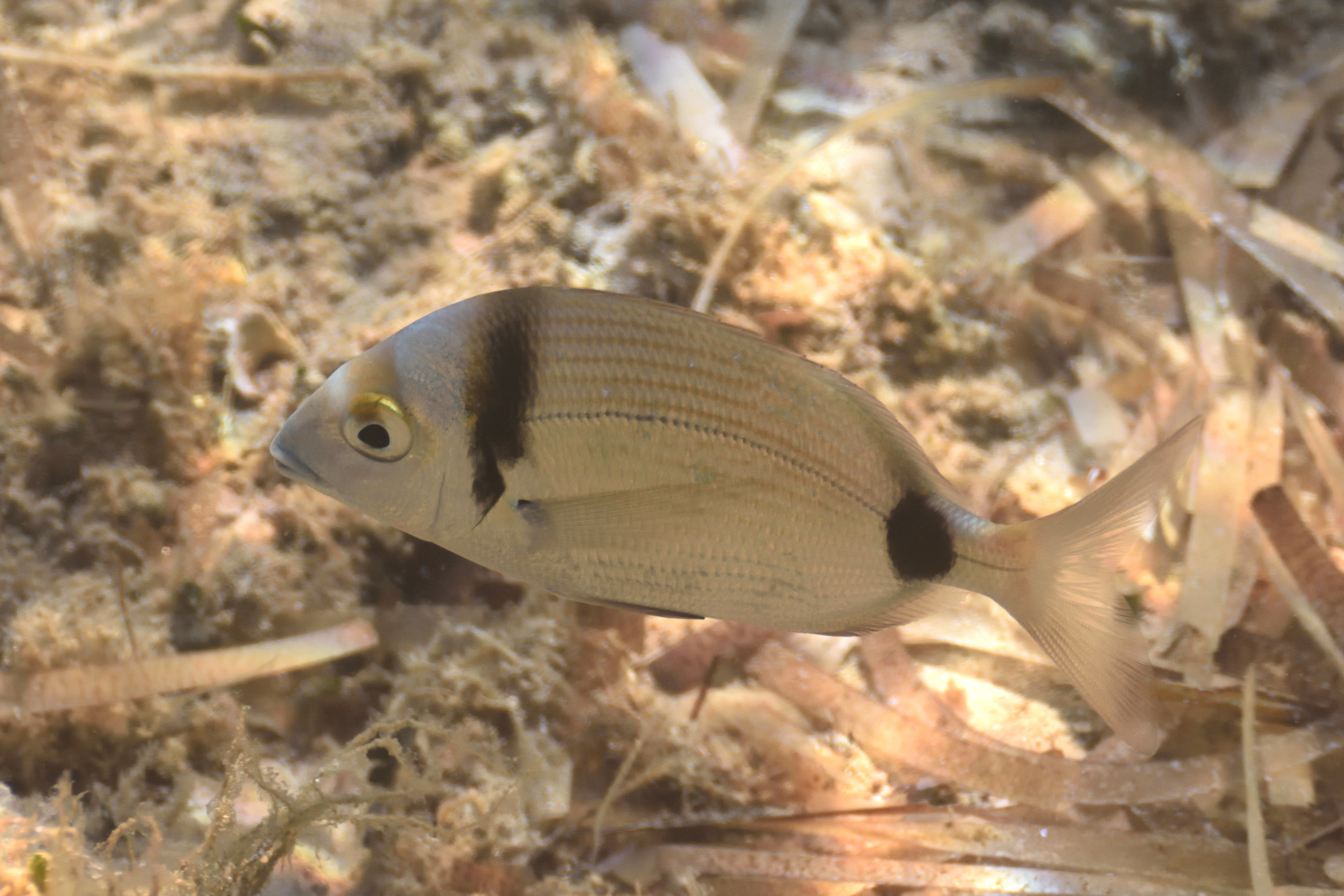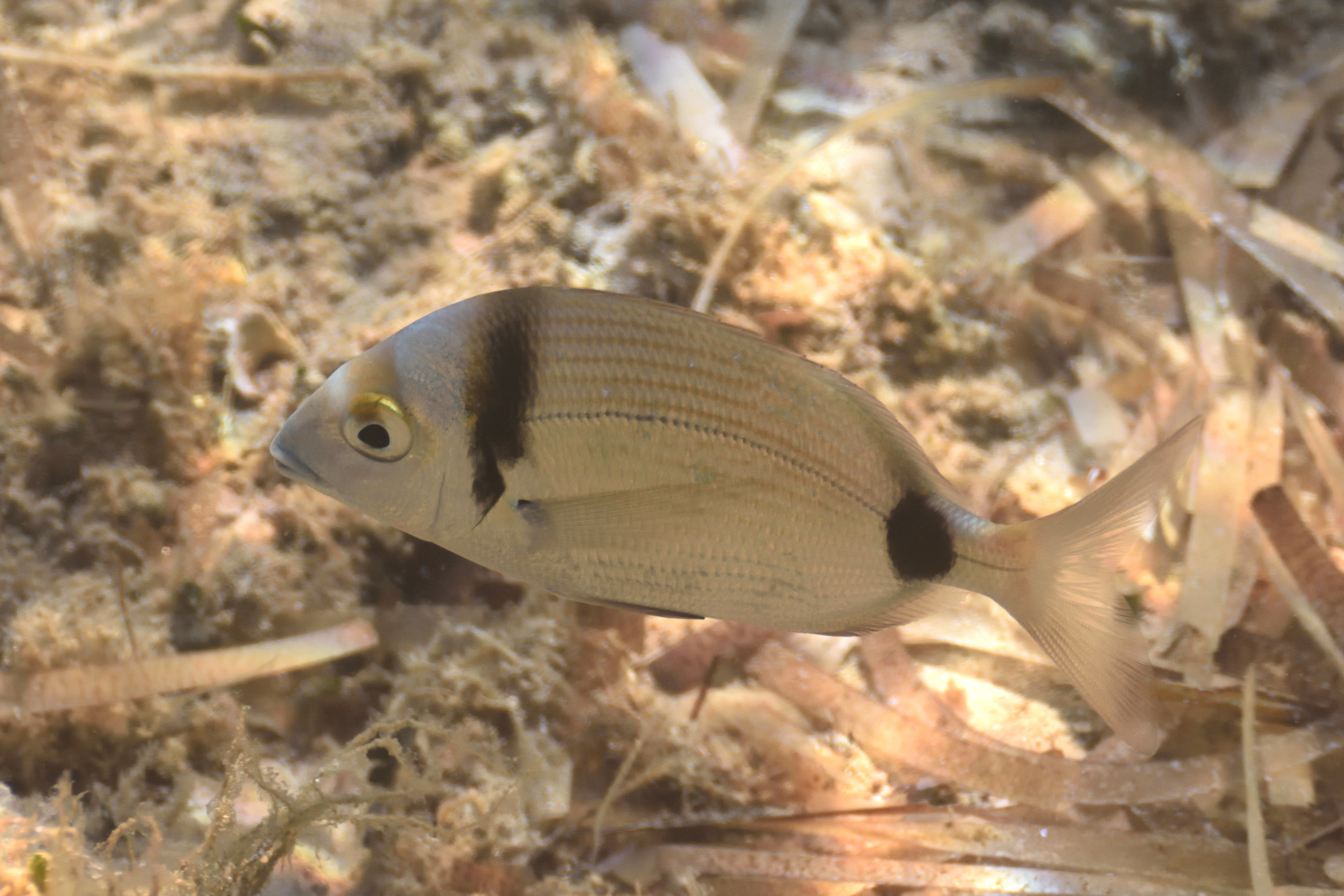 Introduction
Diplodus vulgaris is a salt water fish.
Who is it?
Morphology
Average size

22 cm

Maximum size

45 cm

Shape

Ovoid

Pattern

vertical stripes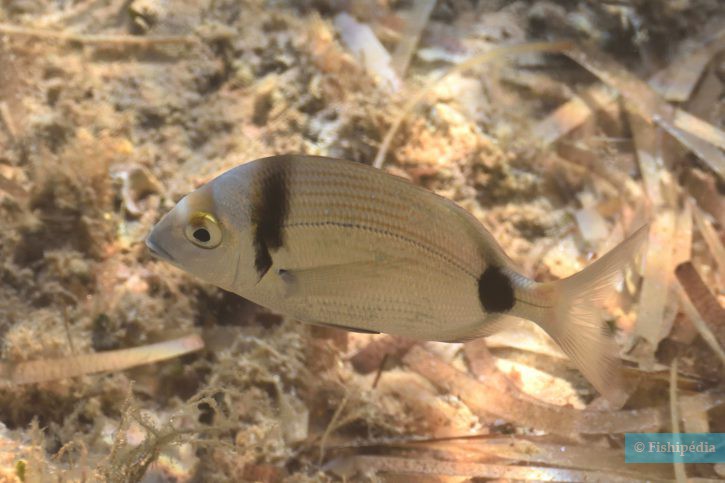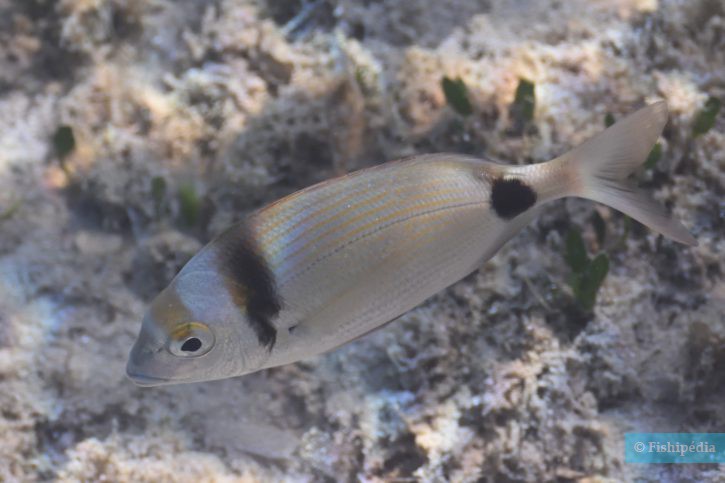 Previous
Next
Average size

22 cm

Maximum size

45 cm

Shape

Ovoid

Pattern

vertical stripes
How to recognize Diplodus vulgaris ?
Diplodus vulgaris measures between 22 and 45 cm. This fish is unicolore with a predominantly argent body. The also has noir vertical stripes.
Behaviour & Life cycle
diet

carnivorous

Sociability

living in a group or alone

territorial

No

Way of living

diurnal
Diplodus vulgaris is a fish living in a group or alone. This species is carnivorous .
Although Diplodus vulgaris is non-territorial, it is sometimes aggressive towards other species.
Harmless species
This species does not represent any particular threats to humans when encountered in its natural environment.
What is its habitat?
Natural environment characteristics
Depth

1 - 100 m

Flow

Strong
Biotope presentation
Diplodus vulgaris is most often found at a depth between 1m and 100m. However, it is not impossible to find this species at other depths.
Fishkeeping
Not recommended
We do not recommend keeping this species in an aquarium. It has unpredictable needs which, if not met, generate significant stress, potentially leading to a shorter life expectancy, an interruption of its growth or the development of pathogens.
Sources & Contributions
Participation & Validation
The Fishipedia team and specialist contributors are committed to providing high-quality content. However, although the information comes from scientific sources or testimonials from specialists, the cards may contain inaccuracies.

Benoit Chartrer

Julie Magnus

Silvia Gomez
Bibliographic references
Reproductive biology of four Diplodusspecies Diplodus vulgaris, D. annularis,D. sargus sargus and D. puntazzo (Sparidae)in the Gulf of Tunis (central Mediterranean) - N. Mouine - P. Francour - M.H. Ktari - N. Chakroun-Marzouk - Marine Biological Association of the United Kingdom - 2012.
SPARIDAE - K.E. Carpenter - FAO Fisheries Synopsis - 0.
Interact with Fishipedia
To get in touch with our team or participate in our project.
Template and content ©
Fishipedia
- Unauthorized reproduction without prior request - ISSN 2270-7247 - Last modification 12/11/2023
© Fishipedia.fr 2023
Scientific partners
Species of the same family
Same genus
Species of the same biotope